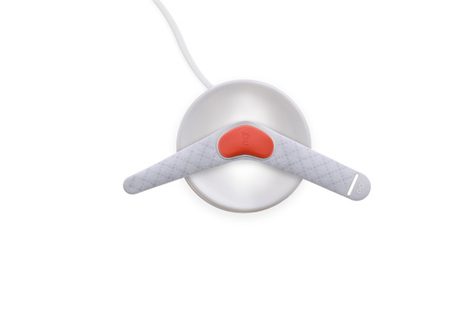 Calling itself the "world's smartest baby monitor" Sproutling is launching its pre-ordercampaign today for its machine-learning monitor that predicts a baby's sleeping patterns, mood and room conditions to provide personalized insights for parents via an iOS app.
Last year, Sproutling raised $2.6 million and an additional $100,000 this year to design the wearable aimed at raising parenting IQ and relieving stress.
Smart baby monitors aren't new. Withings' Smart Baby Monitor and Mimo both have features such as notifying parents if something is wrong with their baby, and wearable boot Owlet measures a baby's heart rate. But Sproutling uses its machine-learning technology to send parents a push notification when they cannot pay full attention, such as in the shower or when taking a nap. It pairs a wearable band with a mobile app to deliver the results of 16 measurements in real time such as:
Heart ratePredicting when the baby will wake upIf the baby rolled overThe baby's mood when he or she wakes upThe brightness and noise levels of the room, in case the baby has a hard time sleepingThe room temperature
The app doesn't simply provide the heart rate as a number, as co-founder Chris Bruce says it might cause a parent, who doesn't really know the difference between 130 and 120 beats per minute, to worry. Instead, the wearable learns the baby's patterns, whether it is the heart rate or sleep cycle, and averages it out to provide insights if an irregular change occurs.