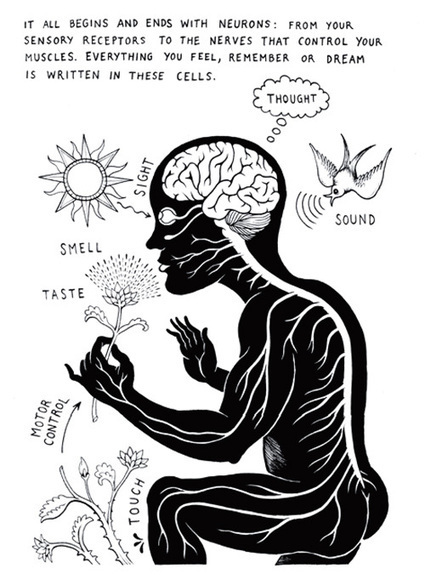 From the caves of memory to the castles of deception, by way of naughty neurotransmitters and giddy ganglia.


Scientists are only just beginning to understand how the brain works — from what transpires in it while we sleep to how to optimize its memoryto what love does to it to how music affects it — and the rest of us fall somewhere on the spectrum between fascinated and confused when it comes to the intricate inner workings of our master-controller.
From British indie press Nobrow — who also brought us Freud's graphic biography, those lovely illustrated chronicles of the Space Raceand aviation, as well as Blexbolex's magnificentNo Man's Land — comes Neurocomic (public library), a graphic novel about how the brain works. This remarkable collaboration between Dr. Hana Roš (and dog knows I love few things more than a female neuroscientist) and neuroscience-PhD-turned-illustrator Dr. Matteo Farinella, with support from the Wellcome Trust, explains the inner workings of the brain in delightful and illuminating black-and-white illustrations, covering everything from perception and hallucinations to memory and emotional recall to consciousness and the difference between the mind and the brain.