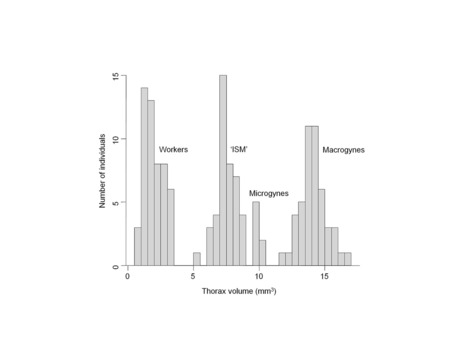 The mechanisms by which development favors or constrains the evolution of new phenotypes are incompletely understood. Polyphenic species may benefit from developmental plasticity not only regarding ecological advantages, but also potential for evolutionary diversification. For instance, the repeated evolution of novel castes in ants may have been facilitated by the existence of alternative queen and worker castes and their respective developmental programs.
During animal ontogeny, organs follow distinct growth rules that produce an integrated phenotype. Two parameters are crucial: growth rate defines the speed at which each organ grows, and critical size specifies the overall size of the individual at which growth stops and development is complete [1]. By modifying growth rules (growth rate and critical size), new phenotypes can be produced. Phenotypic plasticity relies on such modifications to generate variation. Changing critical size without altering growth rates results in new phenotypes that are in the continuity of existing ones. Potential changes are thus limited. In contrast, modifying growth rates can lead to dramatically different phenotypes. Here we explore how growth rules are modified to generate new phenotypes by using one of the most polyphenic animal taxon as a model: ants.
In ants, phenotypic plasticity generates two morphologically distinct female castes: workers and queens. The growth rules of these adult phenotypes differ in both growth rates and critical size (when a larva reaches critical size, pupation is triggered) [1]. Queens are generally large, with a complex articulated winged thorax, and a specialized reproductive apparatus, whereas workers are smaller, with a simplified wingless thorax, and a reduced reproductive apparatus ( [2]; Fig. 1). These two castes are adapted for distinct functions, namely independent colony foundation and reproduction for queens, and foraging, brood care, nest building and nest defense for workers.