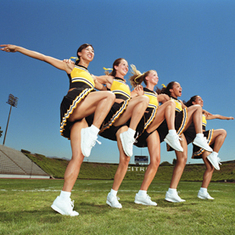 Whether you're a casual user of social media sites like facebook and twitter or an avid online dater accessing eHarmony or Match.com, chances are you've created a personal online profile and been faced with a decision: What should you post for your profile picture? Many people post head shots or selfies, while others opt for pictures of their children, spouses, pets, or even favorite quotes or symbols. If your goal is to be perceived as attractive (and let's be honest, whose isn't?), then new research by Drew Walker and Edward Vul at the University of California, San Diego suggests your best bet is to opt for a group shot with friends.
A photo with friends conveys the fact that you are amiable and well-liked, but oddly enough that is not what makes you more appealing. Instead, the new research shows that individual faces appear more attractive when presented in a group than when presented alone — a perceptually driven phenomenon known as the cheerleader effect.
Consider the Laker girls or Dallas Cowboy Cheerleaders. To many, these women are beautiful and sexy. However, their perceived beauty is in part a visual illusion, created by the fact that cheerleaders appear as a group rather than solo operators. Any one cheerleader seems far more attractive when she is with her team than when she is alone.