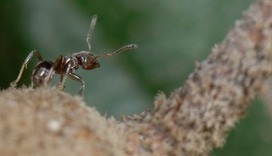 Tiny sap-sucking insects that are a scourge to gardeners also have the upside of helping trees survive in seasonally dry forests in Central America. How? Scale insects use carbon they get from Cordia alliodora trees to make sugar-rich "honeydew" for Azteca pittieri ants, which in turn defend the trees against leaf-munching insects. Mutualism is often stronger when resources are scarce, but this interdependence usually involves a commodity that is traded directly between species. Now, in this issue of PLOS Biology, Pringle and colleagues show that lack of a resource that is not traded—water—intensifies the bonds between C. alliodora, scale insects, and ants.
Found from southern Mexico through South America, C. alliodora has stem hollows where ants nest and tend flocks of scale insects. Named for their protective coverings, scale insects are vampires to the vegetable kingdom, piercing plants with tubular mouths to drink straight from the vascular system. As they imbibe, they secrete honeydew for ants to harvest and eat. Rounding out this mutualistic circle, the ants patrol their C. alliodora host for beetle larvae, caterpillars, and other herbivores, biting them until they leave.
Previous studies suggested that plants may invest more carbon in ant defense during water stress. This scenario is particularly taxing for C. alliodora, which drops its leaves during the dry season and must make its carbon stores last long enough to grow new leaves during the next rainy season. But ant colonies must be maintained year-round to ensure defense of leaves during the growing season, safeguarding the production of carbon to get the trees through the next dry season.