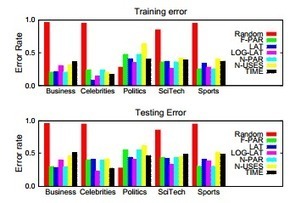 Your pattern of behaviour on Twitter can be defined by a simple "genotype" and used to predict your future behaviour, say network researchers
One of the curious features of human behaviour is that it is predictable in certain circumstances but not in others. Knowing the difference is a fantastically valuable skill.
That's why social media researchers the world over are scrutinising social networks for clues they can use to predict people's behaviour on scales that have never before been achieved. On this blog, we've looked at various attempts to show social media can be used to predict, with varying degrees of success, people's buying habits, movie tastes and even their future stock market purchases.
Today, Petko Bogdanov at the University of California Santa Barbara and a few pals take a new, genetically-inspired approach to this task. They say every person has a fixed set of interests, called their social media genotype, which determines their pattern of behaviour on networks such as Twitter. What's more, they say that these genotypes have been discovered, can be used to predict an individual's future behaviour.