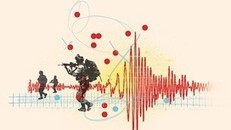 Statisticians are borrowing models from seismology and physics to forecast future patterns of war and terrorism
What is the risk of a war on the Korean peninsula or South China Sea? Or, for that matter, of another terrorist attack on American soil? These are questions that western diplomats and security experts are asking themselves this spring. And as speculation grows, those officials have been duly scouring satellite feeds, intelligence reports and history books.
Over in Colorado, Aaron Clauset, a computational scientist, is pondering the dangers from a different perspective. Clauset, who teaches at the University of Colorado, Boulder and is part of the Santa Fe Institute, has spent the past decade on the frontier of computing and statistical research. But he has not focused on areas normally beloved by geeks, such as engineering, physics or biology.