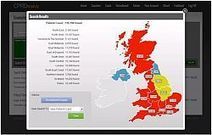 Two Sussex academics have begun work on developing a system for assessing the quality of patient information held in a new NHS database.
Dr Rosemary Tate, a medical statistician and computer scientist in Informatics, and Dr Natalia Beloff, Senior Lecturer in Software Engineering, worked with Brighton-based company Dataline Software to develop a system, called TRIALVIZ, that allows users to extract real-time information from the database and to search based on a specified set of criteria. Prior to this, extracting such information was time-consuming and required considerable expertise.

The current application of this tool will help in the development of new medicines, by enabling users to select suitable patients for a clinical trial. But the flexible design means that many other healthcare applications are possible.

Now, in a second project, Dr Tate has been awarded a one-year Senior Research Fellowship to develop a mechanism for assessing – and improving – the quality of the data held within the CPRD.

Working with Dr Beloff, Dr Tate will develop a protocol and framework for measuring data quality, and will also create a software component for extracting data-quality statistics and constructing practice-based quality scores.