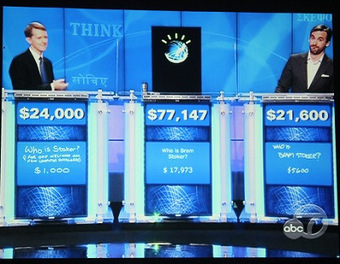 Watson showed, in dramatic form, the capabilities of current computers when it (he?) defeated the two best Jeopardy!.....
Players in the world almost two years ago. If Kurzweil's law of accelerating returns holds, Watson ought to be about twice as efficient as it was then. Further, while the Jeopardy! win was impressive, what happened behind the scenes was more impressive. Watson learned, by reading natural language texts, how to find the answer to a Jeopardy! questions in but a few seconds.
Lawyers, also, use natural language documents to figure out the answers to questions. Just as Watson is being taught to answer questions in the medical and financial contexts, it seems that Watson could likewise help lawyers in the legal context. By scouring cases (helpfully in electronic form already) Watson ought to be able to learn legal theory and discern precedent much as lawyers do already.
When Watson is combined with other software, a truly comprehensive legal system begins to emerge. Lawyers find facts through a process called "discovery." Among other things, discovery involves asking questions of witnesses, searching through computer systems and hard-copy file systems, and gathering expert opinions. Already e-discovery software exists that can help automate some of this process. Additionally, Watson could record client interviews and distill facts from the recordings. With access to the facts and the legal precedent, Watson could draft a brief through currently existing article writing software. With additional software, Watson can also help with negotiations.