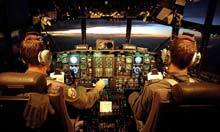 I am writing this in the grips of a profound headache, largely brought on by my stumbling efforts to get a grip on where we are with our economies.
If our global economy were a commercial aircraft, and I one of the pilots, the entire instrument panel would be covered in flashing lights. But instead of sounding steady alarms, most would be stuttering on and off in apparently random patterns, making coherent responses very difficult. And that mental image had me racing back to the inquiry report on Air France 447, which disappeared en route from Rio de Janeiro to Charles de Gaulle on 1 June 2009.
Apart from routine fears of flying, those boarding the Airbus A330 would have had no reason to expect anything untoward. But, in the worst accident in French aviation history, the plane fell out of the sky into the Atlantic, killing all 228 people aboard. The causes were a mystery for air crash investigators, though early suspicions focused on the possible icing up of the critical airspeed monitoring devices called pitot tubes. It took Herculean efforts to retrieve the black boxes, but they provided a much clearer idea of what had gone so dramatically wrong.