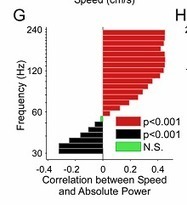 Think about what happens when you walk. Really THINK about it. What does it take to walk? Well, your feet and legs have to move (far more complicated than they look), which means your muscles have to move, which means your nerves have to control your muscles, which means your brain has to send the signals in the first place. All of this is based on further information, knowing where you are in space and where you're going, how fast you need to get there. And then there's even more! How do you know where you are? How do you know how fast you're going? How do you know which direction you're headed? And behind all of this are thousands and millions of neurons firing, together and separately. And underlying THAT are thousands of biochemical processes which allow the neurons to fire…
…now take that walking speed, and make it a run.
The sheer number of neurobiological processes and number of things that need to happen to make you walk into your workplace every morning is the kind of thing that makes neuroscientists stop in their tracks with wonder.