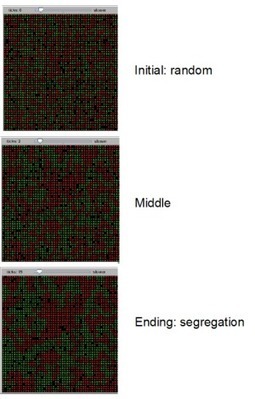 Fidel Castro says America is "profoundly racist." What do you think?
His statement made me think about segregation. I thought about racially divided neighborhoods in big cities. I thought about the "racial cliques" I observed among peers at Stanford. I thought about how few CEOs are of color. Is Castro right-do these things mean America is deeply racist?
The surprising answer is no. There is an alternate and perhaps more convincing explanation of why segregation happens.
During the 1960s the economist Thomas Schelling researched segregation and racial preferences. He suspected segregation was the result of a subtle interaction and he created a model to investigate. Not only did the model confirm his suspicion but it showed something very surprising: even very small preferences among otherwise civic individuals could lead to segregation.
I'll cover the model and then explain its implications which affect everything from housing sales to company hiring policies.