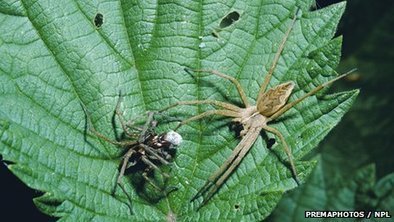 On Valentine's day, what beau could possibly resist a hand-picked gift, wrapped in perfumed silk?
Certainly not female Paratrechalea ornata spiders, according to research by Dr Luiz Costa-Schmidt, an arachnid expert studying in Brazil.
Male spiders of this south-American species incorporate a chemical known as a pheromone into their silk gift wrap. This encourages females to accept them as mates.
Using a present, or "nuptial gift", to ensure a sexual engagement is a practice found throughout the animal kingdom but it can be startlingly different from our human perception of courtship.
Here are some of the weird array of presents that animals give to potential mates.