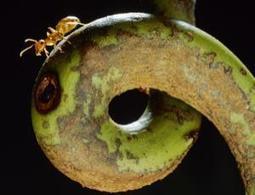 When looking for a new home, it's normal to draw up a list of must haves – good transport perhaps, and a garden. Compromises are not unusual, either. We may, for instance, forego a nice location for the sake of convenience.
The animal kingdom is no different. Symbion pandora sets up camp on the unappealing hairy mouthparts of Norwegian lobsters, in order to snack on the lobster's leftover food. Some individuals will go to great lengths for all the mod cons, even if it means living in the most dangerous of neighbourhoods.
Camponotus schmitzi is one of them. This species of carpenter ant fearlessly sets up its nest inside the cavity of the carnivorous pitcher plant Nepenthes bicalcarata.