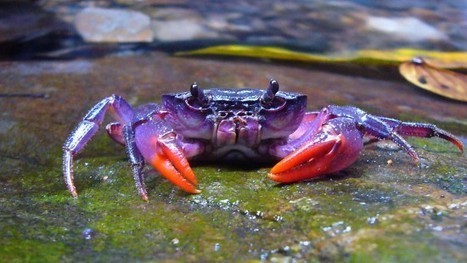 While this bright purple and red crab seems impossible to overlook, it was only recently identified by a research team led by German scientist Hendrik Freitag from the Senckenberg Natural History Museum. Beautiful as it is, this crab – Insulamon palawanense — lives only in remote regions of the Philippine island Palawan which makes its future quite uncertain.
In his work, Freitag revisited decades-old studies of freshwater crabs in the region and discovered four more species unknown to science. Insulamon palawanense is certainly amongst the showiest, but those colors probably serve a specific purpose.
It is known that crabs can discriminate colours. Therefore, it seems likely that the colouration has a signal function for the social behaviour, e.g. mating [...] This could explain why large males of various Insulamon species are more reddish compared to the generally violet females and immature males.