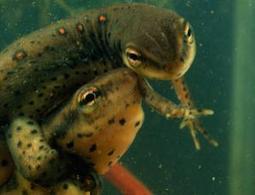 One of the most important things any animal can do is to tell potential mates about themselves. They have all sorts of ways to do it, from peacocks' ridiculously large and ornamented tails to the sharp suits and gym-honed bodies of posing human males. If it weren't a matter of life and death, it would all seem very, very silly.
Many of these signals come in the form of secondary sexual characteristics: parts of the body that aren't directly involved in producing offspring, but are nevertheless associated with the process. The peacock's train is one example; in humans, male body hair is a signal of reproductive maturity, and large female breasts are renowned for attracting male attention.
But female red-spotted newts may need to look a little more closely when they choose their mates. Specifically, if they want a good one, they would be well-advised to take a look at his kidneys. The same may be true of many salamanders.