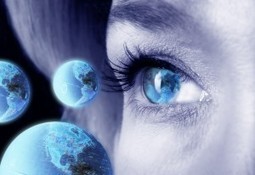 Did you know that you have a quantum mind? Do you know that it decides what is reality to you? Here's how….

The many worlds theory of quantum mechanics states that there are a limitless number of optional outcomes (past and future) in any situation. We select the outcome we experiences based on our specific expectations, focus and state at any point in time. Imagine a limitless number of paths stretching out in front of you , each leading to a different result. Simply put, quantum mechanics postulates that we select one of those paths to act upon as our reality. If you haven't seen the movie "What the Bleep do We Know," I'd highly recommend you get it and watch it. It's a great explanation of your reality!

When I heard that theory some twenty years ago, I knew it was true. All I had to to was to watch a football game with 2 guys rooting for 2 different teams and I could see quantum theory in action. They each saw a totally different game!
We Are Quantum Computers

Thanks to neuroscience, I've recently learned how and why quantum mechanics applies to every one of we humans. Quantum is part of us because It's ALL in Our Minds! Here's how it works….

We take in over 11m bits/second of sensory information. Think about that for a minute. That's a LOT of information from our eyes, ears, feelings and other senses.

Contrary to what many of us were taught, out conscious mind does not process the information we take in. Our unconscious mind manages this vast flow of information.

From that 11M bits/second, our unconscious mind selects 126 bits/second to give to our conscious mind for processing and action. That's .0000122 of the total information available to us.

Talk about selective attention! So what about all that other information we take in? How many other realities are there in that 10.9 MB of data we ignore?

So What is Reality?

We each select a tiny percentage of information from a massive field of optional outcomes and data. What you or I select to act on is based on our individual mindware programs, our current point of focus and our individual expectations. The same is true for everyone on the planet. We each select.0000122 percent of our available data to process in every second. Want to make a bet about how many of us select the same 126 bits?

Quantum mechanics has proven that scientists see what they expect to see, particle or wave. The same thing is true of each of us. We all choose our own unique reality from our ocean of sensory information. We process that selection with our own unique mindware programs and filters.

That means we each live in a reality of our very own selection. A reality that we choose and interact with based on our own individual mindware. No two realities are alike.

Our quantum minds explain why multiple people can and do respond to the same stimulus with multiple and very unique perspectives. Talk to anyone about a movie or a football game and you'll get as many perspectives as you have people. The same goes from every meeting, interaction or experience in our individual lives.
The Power to Change Our Reality

Understanding we all select our unique reality is phase one. How do we change what we choose to see as reality? That's where neural sciences come in.

Imagine, transforming that bad day into an unstoppable sequence of positive events. Changing the way you feel about your boss, spouse, co workers or friends simply by shifting your state of mind and the information you choose to see. Or shifting from a long-term job search where you've found no great opportunities to suddenly find a wide variety of suitable and available options. That's the power of your mind. Truly.

We all have the power to shift our perspectives by upgrading our mindware programs. When we upgrade our mindware programs, we change the information we select from the ocean of data around us. As a result, we literally shift our lives.