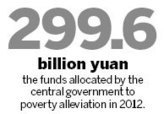 China will allocate more funds to lift its rural population out ofpoverty this year, with efforts focused on making education moreaccessible for the poor, said a top poverty relief official.
"Although pressured by the economic slowdown, povertyalleviation efforts should not be affected," said Fan Xiaojian,director of the State Council's Poverty Alleviation Leading GroupOffice. "The increase in funding this year is very likely tosurpass the growth of
last year."
In 2012, the central government allocated 299.6 billion yuan ($48.2 billion) to povertyalleviation, an increase of about 32 percent compared with the previous year.
Over the past 12 months, China's rural population considered to be in poverty declined toabout 99 million from 122 million - the first time the country has started to consider those with ayearly net income of less than 2,300 yuan as "destitute".
Fan, also a member of the Chinese People's Political Consultative Conference NationalCommittee, said poverty reduction work is more than just injecting money into impoverishedrural areas. Support for education and access to educational resources are even more crucial.
"I firmly believe education can change a person's life," he said. "Financial subsidies can onlysolve the poverty problem in the short term, while education is a more sustainable way to helpget rid of poverty."
Measures include raising the quota for students from poverty-stricken areas to be enrolled atkey high schools and universities, he said, adding that the government will also continueproviding subsidized meals for students to boost their nutrition.
In recent years, China has worked hard to rid its education system of inequality to eliminatepoverty in a more profound way. Last year the central government spent more than 16 billionyuan to subsidize meals for around 20 million students in about 680 cities and counties in someof the leastdeveloped areas, Fan said. The measures included giving 10,000 quotas forstudents from poverty-stricken areas to get enrolled at key universities.
The government also plans to roll out a policy to provide living allowances and exempt tuitionfees for students in secondary vocational schools in poorer areas.
"This policy alone requires an additional outlay of more than 20 billion yuan annually, includingthe canteen and dormitory upgrade program," he said.
Wu Tan, deputy director of the Poverty Alleviation and Development Office of Guizhouprovince, said: "The crux of poverty lies in people, so we have tried all means to improve thepoverty-stricken parts of the population's capacity to survive and to change their financialsituation by themselves."
Christophe Bahuet, country director of the United Nations Development Programme in China,said an economic downturn has several negative effects, including reducing employmentopportunities, commercial activities and investment.
"The economic downturn makes poverty reduction efforts even more crucial," he said.