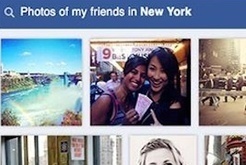 Over the next few weeks, expect your Facebook account to be updated with Graph Search.
Facebook is about to undergo a major change. The company announced July 8 that it's readying to roll out the Graph Search function that it introduced in January and offered in beta form to "tens of millions" of users, who have already helped to improve it.
Graph Search will roll out to everyone who uses "U.S. English" over the next few weeks, said Facebook.
Unlike traditional search tools, Graph Search fetches everything that the user has personally touched or shared or "Liked." These can be links, images, documents or friends. One can search, for example, "friends in my city who like Theophilus London," or, "friends in Florida who voted for Mitt Romney," and Facebook, which has been saving every user's every iota of data since the moment they signed up for its service, will deliver the answers.
If you search "photos of New York City," you'll see photos your friends took and shared, as well as Public photos. The same search will yield different results for different users, given they have different friends.
Via
Tonya Scholz