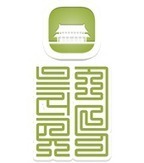 In China people speak Chinese.
May 7th, 2010
A common myth is that the Chinese all speak Chinese. China has a long history spread over a large area. The diversity of cultures that call or have called the area home is reflected in the languages spoken (or once spoken) in what we now think of as China.
Each of the logos says "Sinoglot" in a different language or script. Each time you visit a page on Sinoglot you'll get a random logo. Below you will find all variations with information on the language or script used.