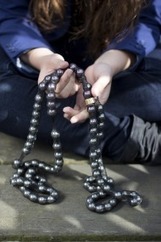 Fascinated by 'today's Haste society' as he calls it...
"Many aspects of modern life are too fast," states Boutkan. "Because of this a lot of quality is lost. We seem to have set our course towards the horizon and only focus on getting there as fast as possible, without taking time to look at our surroundings."
This fascination is what led to Intervals, a graduation project inspired by a passage from Joke J. Hermsen's book Stil de Tijd (Stop the Time): 'Only in times of rest, the interval between two actions, can we reflect upon ourselves.' From this, a series of products was designed each with an endlessly repetitive yet conscious function.