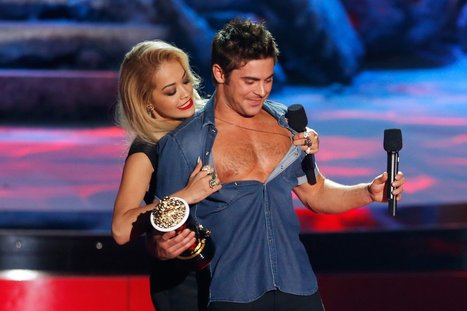 When Rita Ora relieved Zac Efron of his shirt at the MTV Movie Awards, his apparent surprise shifted quickly to strutting. Is this really a new era of male body anxiety?
Handily, Zac Efron wore a pop-button shirt to Sunday night's MTV Movie Awards. Handily, because when he won the Best Shirtless Performance award forThat Awkward Moment, to catcalls from a baying crowd and a little help from the singer Rita Ora, the shirt was first unbuttoned, and then—in a oh-damn-it-all moment from its wearer—came off.
The actor looked resistant at first and then, with the look of a man who knows his pecs are perky and biceps pumped for prime time, not so resistant. He threw his microphone down and, with a stripper-style toss of the pop-button shirt, revealed a body bronzed the color of a well-done Thanksgiving turkey.
Efron flexed, he saluted, he blew a kiss. He looked as if he might have known this would happen. If not, his extended moment on stage sharing the glory of his rack and arms with the world signaled a man not averse to a little self-display. Hetweeted later: "@RitaOra: Thanks for such a bold move. I don't know if I could've done that on my own."
Yeah, right, Zac. You looked fine with it to us.