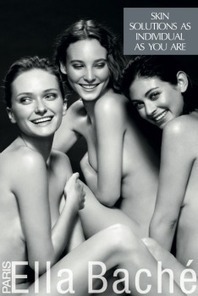 The Advertising Standards Board has dismissed complaints from the public against an Ella Baché ad depicting three smiling naked models.
The decision vindicates advice from the Outdoor Media Association which said that the smiling version of the campaign would be acceptable to the ASB but warned that a version with more serious expressions could be seen as overly-sexualised.
As a result of the OMA advice, outdoor media owners told Ella Baché they could not run the serious faced version. The beauty brand got around this by featuring it in a light box installation around Circular Quay in Sydney in the run up to The Fleet Review.