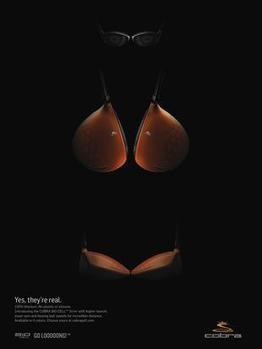 Who knew golf clubs could be sexy? In its first print campaign for Cobra Puma Golf, global marketing agency VML is flirting with its creative side.
Last week, the Kansas City-based company announced that Cobra Puma Golfselected VML as its global agency of record. That means VML will lead the overall brand direction for Cobra Puma Golf which will span print, broadcast, digital, event and retail point of sale. Markets will include the United States, Europe and Asia.
VML launched the print campaign for Cobra Puma Golf last month in the annual swimsuit edition of Sports Illustrated. The ad shows off Cobra's new titanium driver against a black background, creating the illusion of a bikini. "Yes, they're real" is the tagline.
In recent years, VML has focused more on the digital side of advertising, but now it's looking for more opportunities. Expanding beyond digital wasn't a conscious decision, said Gard Gibson, executive director of VML's Insights group.
"We had clients saying, 'We want to hear your thinking about this from a higher level, not just a digital standpoint,'" Gibson said.