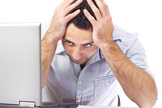 "Despite recent strides in 'sex addiction' research, the condition does not make the cut as an official psychiatric disorder, according to the American Psychiatric Association."
----------
Curator comment: The decision by the APA to exclude "hypersexuality disorder" (note: not "sex addiction") from even the provisional section of the DSM is not a total surprise. The relative lack of controlled studies to adequately account for the onset, prevalence, and severity of this deceptively complex behavioral phenomenon was undoubtedly a factor in this decision.
The many structural, philosophical and cultural factors that are amply reflected on this site aren't easily reduced to a set of universally applicable diagnostic criteria. The tortuous attempt to isolate pathological processes within the narrow confines of the medical model is a grave error that already ondicts many existing psychiatric diagnoses. Still, the decision by the APA to oppose further research into the mechanism of chronically destructive sexual behavior is difficult to understand. Judging by many of the comments that are being posted on various health-related discussion groups there are a lot of people scratching their heads over this decision.
Author: Rachael Rettner
Source: LiveScience, "the trusted and provocative source for highly accessible science, health and technology news for people who are curious about their minds, bodies, and the world around them."