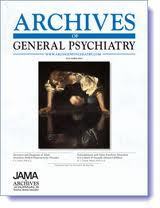 "Patients with obsessive-compulsive disorder......worry considerably more than the general population in the face of morality problems."
Curator comment: This recent study finds that people with obsessive-compulsive disorder are exceptionally affected by moral dilemmas. Since some people with OCD exhibit extreme anxiety about whether they have committed a religously unacceptable or blasphemous sexual act, people who are exceptionally conflicted by the religious dimension of their dysregulated sexual desires or behavior may be exhibiting a form of obsessive-compulsive "moral hypersensitivity". This assessment must be sensitively and respectfully handled.
The actual research article being cited is "Neural Correlates of Moral Sensitivity in Obsessive-Compulsive Disorder", in the Archives of General Psychiatry. (Arch Gen Psychiatry. 2012;69(7):741-749)
Source: Redorbit.com ("Your Universe Online".) November 8, 2012.