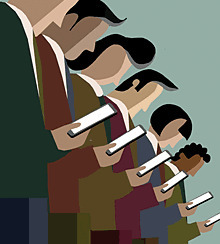 A manager's effectiveness depends not only on using e-mail and other electronic communication, but also on learning to shut it down.
Do you ever disconnect, even for just a few minutes? Think about the last time you used your "off button." Was it at home over the weekend? On vacation? Or were you at the office?
BlackBerrys, iPhones, Androids, iPads, and all their digital relatives are transforming our lives — for better and for worse. They are also changing the nature of how and when (and where) work gets done.
This new reality has profound implications for management, although studies on the topic have been surprisingly limited.