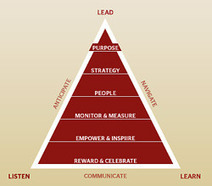 Gary Burnison considers leadership to be a privilege. Most people like the idea of leadership but few count the cost. He says, "To lead is to be all in, transparent and accessible, calm in the face of upset and even crisis, and always mindful that you are a steward of something bigger than yourself." That's not easy. To whom much is given much is required. That's the part that easily trips us up.
His book, The Twelve Absolutes of Leadership offers insight from his lifetime in leadership, interacting with some of the world's top leaders in the C-suite and boardrooms, as well as heads of state.
He offers a framework based on fundamental human truths and the essential elements of leadership. The "Absolutes" are building blocks that must be present regardless of your leadership style or approach.
Here are the 12 Absolutes with Burnison's thoughts on each:...
Via
Gary Morrison
,
AlGonzalezinfo