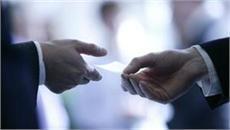 Stop wasting time networking the wrong way. Establish meaningful relationships at your next event with these strategies.
Business people network a lot.
Unfortunately, most of it is a total waste of time. They spend a lot of their time at networking events talking to people who will never ever be a prospect or influence a customer to buy.
They randomly go from person to person and event to event "hoping" to bump into someone that is valuable to their business. Even worse, many people just use it as an excuse to get away from the office.
You can, however, make the most of networking events and make truly meaningful—and profitable—connections by following some strategic advice.