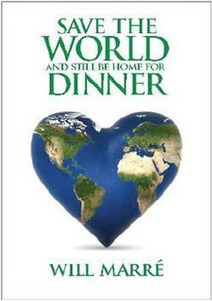 Save the World and Still Be Home for Dinner by Will Marré proposes a lifestyle that considers sustainability of resources as well as of relationships.
Save the World and Still Be Home for Dinner isn't just a catchy title for a book. As author Will Marré very skillfully points out, it describes a way of life that we commit to when we redefine our worldview about the sustainability of the earth's resources while also considering the sustainability of the relationships that we have with those around us. It is about life balance.
Marré should know about the struggle to maintain life balance. He has counseled and trained countless Fortune 500 executives over the years as the cofounder and former president of the Covey Leadership Center. His purpose is to help bring clarity to cutting-edge leadership strategies, social responsibility and brand innovation.
Marré insists that this clarity requires identifying what it is that we want to achieve in our lives and analyzing the essence of what we are trying to accomplish. He refers to this process as making a "Promise" and divides it into two levels. The first level involves committing ourselves to those with whom we already have relationships. If we don't make and fulfill this level of commitment, helping to make the future better for those in our workplace, our friends in the community, and our family, we become irrelevant and people will not follow us nor will they care about or share our purpose.