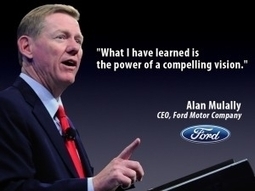 How Alan Mulally's optimism helped to save Ford.
The power of optimism. Mulally is also relentlessly optimistic. Optimism is one of seven traits that all inspiring leaders share (see this previous article for the others). Even in the depths of the auto crisis in 2008, Mulally was the one who always had a smile on his face and a spring in his step.
He had a plan and no matter what happened he knew that sticking to the plan would lead to positive results. But Mulally had to keep everyone fired up.
Via
David Hain