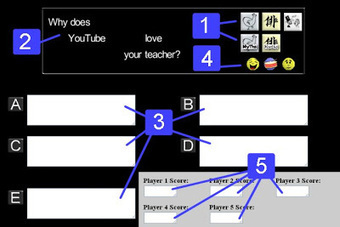 by Mike Petty
"These are the directions and credits for my culminating work of 2012 that is both a highly entertaining classroom activity and creativity exercise. The Classroom Creativity Game can be accessed through the main menu at the top of any page on this blog.

"Over the course of a couple years I made several creativity activities for the classroom based on creativity games that I developed with game designer Kory Heath. You can read about them, how they're played and the related creativity exercises on this page.

"Recently I compiled all of those concepts into a single webpage that contains a prompt generator and other features that allow the game to work on virtually any computer that runs Flash.

"This project is an ongoing work and I will be glad to hear any feedback on what worked, what didn't or what you'd need to see before you'd use it with your class. Also I am interested in suggestions for nouns to include in the generator. Please post any comments below or contact me directly by email if you have feedback."