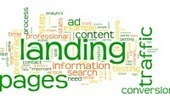 You've spent thousands of dollars on professional landing pages: professional design; professional copy; professional images. The pages drip professionalism and you've watched more dollar signs float out of your wallet than a bird has feathers.
Landing Pages vs. Preferred Landing Pages (PLPs)
People often get confused by the term landing pages. They assume this means a special type of page. Instead, a landing page is just any page a visitor lands on. For example, if a visitor has landed on your contact page first, your contact page is a landing page.