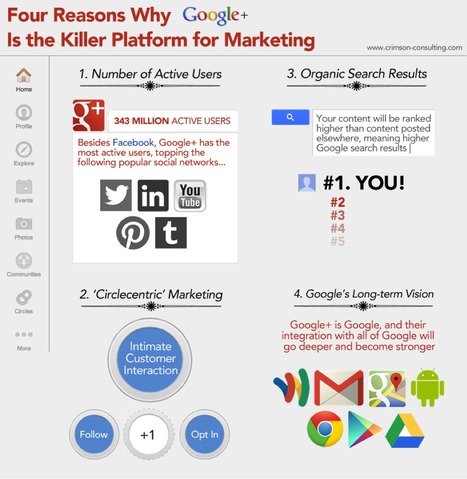 Recent studies indicate that, while many companies were asleep at the switch, Google+ has emerged as the killer platform for B2B social media marketing.
Key quote:
In Google Chairman Eric Schmidt's upcoming book, The New Digital Age, he is quoted as saying: "Within search results, information tied to verified online profiles will be ranked higher than content without such verification, which will result in most users naturally clicking on the top (verified) results. The true cost of remaining anonymous, then, might be irrelevance."
This is the clearest statement yet from Google (which tends not to be very clear) highlighting how authorship is becoming extremely relevant in search results on Google.
This essentially means that if you are posting on Google+ correctly, your content will be ranked higher than content posted elsewhere. Furthermore, because of Google+'s tight integration with the Google search engine, your posts are treated much like regular webpages (unlike posts on other social networks), and will therefore rank higher in search results.
Via
marketingIO