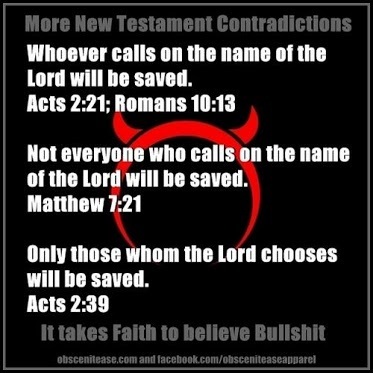 My wife and I recently had eye examines and we bought classes. A phone call that our glasses were in prompted us Sunday to pick them up. Since the eye shop was in the big city of Evansville Indiana we decided to eat at a restaurant. The eye shop didn't open till noon so we foolishly arrived in Evansville at noon to get our glasses. Since it was after noon that we got our glasses when we started out to the restaurant we had picked to eat at the line was full. Out the door full. At least thirty minute wait full. We tried several restaurants and it was all the same, completely full with at least a thirty minute wait time.
What is this? Where had all these Christians come from? And why were they shopping, forcing others to work on Sunday since their faily tale superstition forbids Sunday work?!!!!!? There was milling around of these crowds all dressed in their Sunday finest having just come from Church. The talk overhead by my wife and I by those in line were of Church. Since we didn't stay we didn't get to hear all the noise of Christians fresh from Church doing what their superstition forbids. Causing waiters, cooks, dish washers, etc to work on Sunday. LOL
It is totally frustrating to see Christians causing other Christians to work on Sunday. I'm sure after they ate at the restaurant they went to the big box stores and shopped for items causing even more Christians to work on Sunday. What total liars Christians are.
The main roads on the east side of Evansville were filled with Christian shoppers driving here and there. It's totally obscene Why aren't they at home with with family values eating home made food and enjoying each others company instead of our shopping forcing other Christians to work on Sunday.
Ask them and you'll get the usual loopholes. Christians have more loopholes than the tax system provides for the wealthy Corporations. Every time, out comes a loophole! You ask a Christian how they can work on Sunday when the bible forbids it there is of course scripture that allows it or a story of a Jesus quote premitting it. Everything has a loophole if your one of the right Christians in the right cliche.
Of course Homosexuals are held to the strict rules, no loopholes such as 'being forgiven' for a Homosexual. They aren't in the right cliche. Straight Christians are allowed to work on Sunday, Murder, Adultery Pray in Public, gluttony etc, etc and since they are of the right cliche they are 'forgiven'. I'm sure their hateful bigoted angry cold blood godhead won't be so accommodating.
Then again, who is this fantasy godhead gonna let in to heaven if not the very lying, cheating, thieving, murders it claims to condemn as there are no Christians on Earth. Just Pharisees claiming Christianity. It's all rather sickening when you must live in the flith they generate daily. Walking in their swill & putrid could make one feel unclean but for the fact of common sense, reason and logic protecting mind and body. Walking among the delusion and their attempts to build their illusionary world and include the rest of us in their filth is disguising. Fortunately being good for goodness sake is the amour and iron charriet we all can access to keep us well and clean.
With common sense and decency on our side we will build a better day. It is assured.
Take Care & Be Well,
plasmaborne4rel