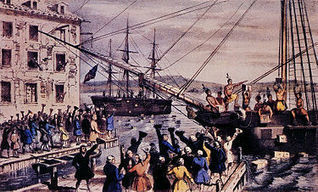 #TeaPartyStupid Brighten up Christian Conservatives! Here's an uncomfortable fact Christian Conservatives refuse to aknowledge.The Boston Tea Party was a action against the tax policy of the unelected British government and the East India Company that controlled all the tea.
Of course if Christian Conservatives would brighten up, they would no longer stay Christian Conservative. Common sense, reason and logic would require verifiable evidence, something superstition can't provide. Religion is simply organized superstition which fears equality, reason, logic, verifiable evidence & independent thinking.
It is insulting to our ancestors who fought and died for Independence that such a modern day Tea Party would advocate the establishment of a unelected Fascist Christian Conservative Theocracy serving the needs of Christian citizens excluding all others and only serviing Christians deemed worthy of inclusion. As an example there were Tea Party members with signs that read: "Keep the Government off my Medicare" when in fact Medicare is a FDR Government Program! This is certainly "Stupid is As Stupid Does". Even Forest Gump embraced common sense, reason and logic.
The modern day faux Tea Party demands the unemployed "Get A Job" when their own Christian Bible and their own so imaginary savior Jesus Christ demaands that Christians "Give No Thought for Tomorrow". Having a "Job" is giving thought for tomorrow and is a Sin. Owning a home is a sin.
Jesus was a Jewish Fascist who demanded you stop thinking for yourself and follow him. This Jewish Fascist claimed you did not need medicine, he would heal you and if he did not heal you then you deserved to die as demons had hold of you. This Jewish Fascist Jesus declared himself your King and was ordained and anointed by God to rule over you. This Jewish Fascist demanded you hate your loved ones if they did not submit to his rule over them never questioning his demands. This Jewish Fascist declared you and your children remain uneducated as he, your Lord, your King would take care of you and if he did not take care of you then you don't deserve to be taken care of.
This is the life we've chosen for ourselves, to submit to an unElected King who claims to be our Lord who has the right to rule over us. The elected Government of the United States of America is the direct opposite of this. The United States of America is a Government of the people, by the people, for the people. The people are the Government of the United States of American and WethePeople need to re-establish our power of Government. Protect, support and defead our Government of WethePeople.
Will we now destroy the elected Government of WethePeople and allow the establishment of a Christian Conservative Fascist Government? Time will tell.
good day to you,
plasmaborne4rel
PS
How can anyone support the U.S. Constitution that advocates rule of WethePeople & believe in a religion that advocates rule by Godly Kings?