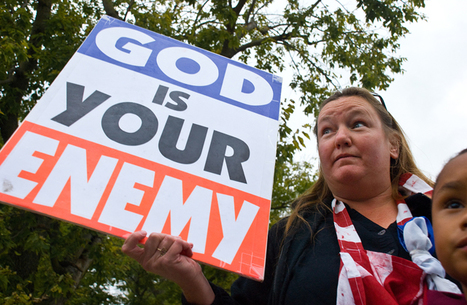 WBC Westboro Baptist Church is the only church telling it like it is within the xian superstition... according to the xian superstition if you question their imaginary god concept & refuse to bow down & obey their fairy tale imaginary God concept you are their enemy. Gott it?
≠≠≠≠≠≠≠≠≠≠≠≠≠≠≠≠≠≠≠≠≠≠≠≠≠≠≠≠≠≠≠≠≠≠≠≠≠≠≠≠≠≠≠≠≠≠≠≠≠≠≠
Operation Fuck Jesus
If xians insist on waging war against common sense, reason, logic and Science we need to defend ourselves with decisive activism.
If xians insist on hanging their ten commandments in Gov't Buildings, We need to take the struggle inside & outside of their Churches. They attack us at our secular public spaces then we need to take our defense to inside & outslde their churches as they do with our secular places! It overdue. We shall over come xian superstition's bigotry & hatred toward humanity.
PS
Jesus is an evil concept. xians plan to claim the return of Jesus and on that day they plan to take over the Earth, establish their imaginary Jesus as King of the Earth to rule over all of us. If you resist Jeuss will kill you. Read your bible!