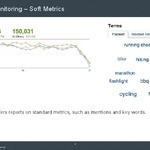 Adobe has announced the general availability of Adobe Social, its social marketing solution, which utilizes the Adobe Digital Marketing Suite, and includes extensive analytics into social engagement, as well as ad and app creation, and engagementn and social listening tools all in one platform.
We had a chat with Adobe's John Mellor and Jeff Jordan, who demoed the offering, and it's quite impressive. "We've moved beyond CRM without leaving it behind," Jordan says.
"The prob­lem for most mar­keters is that they have a hard time see­ing what influ­ence the rela­tion­ships they have nur­tured on social net­works have on cus­tomer behav­ior," says Adobe's Lawrence Mak. "Where exactly does it make an impact? The 'soft met­rics' of social marketing—Likes, com­ments and retweets—don't directly point to how social impacts pur­chase deci­sions along the cus­tomer jour­ney. So instead of strate­giz­ing based on busi­ness data and results, mar­keters are rely­ing on their intu­ition that social media impacts their business."
The analytics go so far as to let you see which conversations (and who is engaging in them) are driving revenue, and how much these conversations are actually worth in a dollar amount.
Source: http://www.webpronews.com/adobe-social-is-now-available-and-heres-what-it-does-2012-09