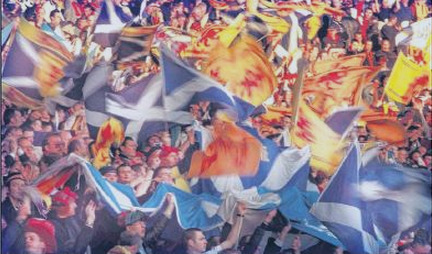 Scottish football's governing body has promised to refund the hundreds of official Scotland Supporters Club members who picked up tickets through what turned out to be a test site.
The Tartan Army has been promised an allocation of 20,000 briefs for what is the oldest international fixture in the world. The Football Association in England has announced its ticket prices for the Wembley match on August 14, which range from £35 to £65.
The SFA told fans the test page was supposed to be hidden and an investigation would take place to find out how links were discovered.
It told fans in messages: "Many apologies to all members who bought via a hidden link to our test site. All refunds will be processed on Monday as a priority.
"The tickets are not yet on sale, this purchase is void. This was a test page accessed through what should be a hidden link. Tickets will go on sale in the next few days. Full information will be emailed to Scotland Supporters Club members on Monday.
"As with every sale, we must test the full process. The menu item was hidden so we will investigate how this link was discovered."
Fans took to forums to air their grievances.
"What a shambles," said one. Another said: "Unreal. Seriously from an IT perspective you do not run a test on a public page on your website ... use a test site then publish to live when all is tested."
The English FA is due to put its tickets on sale from Saturday before they go on general sale next month.
The body has already warned Scots not to try to buy tickets for the England end of the stadium, stating: "Scotland supporter tickets will be sold directly by the SFA.
"Any attempt to gain access to Wembley Stadium in any area of the ground other than the dedicated Scottish supporter area, wearing the colours of the Scottish team, may result in admission being refused and in such circumstances no refund or alternative seat will be offered."
The ticket fiasco is the latest disappointment for Scots who want to attend the first game between the two nations in 14 years.
Bagpipes have already been banned from Wembley, in a move that has prompted outrage.
Wembley Stadium rules state that among their prohibited items are "Unlicensed musical instruments – trumpets, drums and other devices capable of causing a disturbance or nuisance". After consulting with Wembley Stadium officials, Scotland fans have discovered pipes are included.
The reason is believed to be a health and safety issue with storage of the pipes during the game.
SNP MSP Jim Eadie is seeking to challenge Wembley bosses over the rule in an attempt to prompt a rethink.
He said: "I am hopeful that this is an oversight and I am writing to Wembley and the English FA to request this position is reversed."
Fans have also been told they will have to pay £1500 if they want to take any banners into Wembley for the clash.
Wembley and the English FA have a policy of charging for banners that pass over the heads of fans, citing health and safety reasons.
The charge is £1250 plus VAT, in addition to the cost of a parking space.