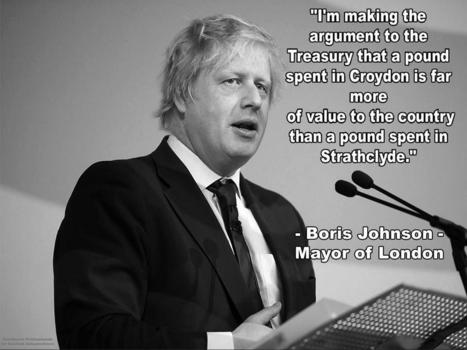 If you turned the fabric of our lives over, I imagined the design on the backside would be woven in the bleak grays of doubt and fear.
I hope Scotland can get passed it's inherent fear of the unknown, it's unfounded belief in the UK Government's view that we are "Too wee, Too poor, Too Stupid" to go it alone. Our economy has out performed the rest of the UK the majority if the last 30yrs!
The McCrone report proved beyond a shadow of a doubt that the Scottish economy would be as strong, if not stronger than Norway's by now.
Had the report been published and the people of Scotland allowed to know the truth of our potential, the last 30 years would have been vastly different!
Instead, our overseers in the UK Government decided to hide the facts from us for 30 years, not through altruism, not with any respect for the people of Scotland, but for the sole purpose of keeping Scotland in the dark and to feather Westminster's nest with Scotland's resources.
WE have propped up the UK economy for 30 years, helped maintain the UK's AAA credit rating, WE have allowed the UK Government to purchase WMD's and to play at being a world power(without the button needed to use them, the US keeps that wee bit of the 'independent deterrent' for themselves), while Scotland's infrastructure rots, Scotland's industries have been stripped and Scotland's people left with part time hospitals, inferior housing, a life expectancy lower than the majority of Europe and an economy shackled by taxation and policies that the people of Scotland cannot vote to influence.
2014 will be the one chance in a generation where the people of Scotland can realize their potential. Where they have a democratic right, to take back their countries resources and potential for the people of Scotland.
To run their country, their way.
To vote for the party they want.
Not to have another forced upon them by a larger neighbour, who despite sharing many values with Scotland, has consistently voted for a different party than Scotland.
The UK Government has consistently had a different vision of what a Government should do for the people.
A Government based in London, will naturally see London as the 'power house' of the UK economy. It is only natural that the majority of policies will be targeted at growing that economy, sustaining the infrastructure around that economy and developing international links and investing in future projects to grow and protect that economy.
It is a fact that more money is spent per head on Londoners than ANY other part of the UK. Scotland has an almost equal population to London yet our people are spread throughout a geographically difficult country, with population centers at every corner of our nation, a fact which should mean higher infrastructure costs.
Yet densely populated London, with higher living costs and therefore higher tax income per square mile, with the benefit of mass transport, mass purchase of services and the economies of scale, still costs more per person to run than anywhere in the UK.
The question then arises, Who subsidizes who?
The ONLY chance Scots will have to vote for the party, Government and values they believe in, will be the 2014 independence referendum.
If we are too scared to take our own path, to wee and too afraid to show the world our potential and to stand up and be counted
To take our resources, values and innovation and to grasp our potential, then we will give the Westminster Government a mandate to continue down a road that will lead to more London based policies, more London aggrandizement, more pocket money policies for Scotland, more policies we cannot affect, more WMD's parked outside our biggest population center and more of our taxes going towards Tory and New Tory (Nee Labour) policies including privatization of the NHS through the back door, our hand out being squeezed until the Scottish Government is forced to reduce social policies including free prescriptions, free bus passes for the elderly (a must for many who rely on public transport in rural areas) and a slow, strangling death of any remaining socially responsible policies voted for by Scots but not followed by Westminster.
A no vote, will give Westminster a green light to continue on it's present course. To order WMDs at a 25yr cost of £100 BILLION at a time of 'austerity' when we have children living in abject poverty, Elderly dying of the cold, families choosing between massively inflated fuel bills or food... when Scottish rural hospitals are closing Neonatal units, coastguard stations are closing, Scottish regiments are being amalgamated and reduced in size, Scotland is forgotten when high speed rail is discussed, Scottish airports have to compete with London airports where the Mayor states that "A pound spent in Croydon is of far more value to the country than a pound spent in Strathclyde,".
We will allow the UK Government to forge ahead with their policies without a backwards glance towards the distant people of Scotland, with their wee nation values and ideas. Let Scotland continue to tinker at the edges of policy, with no real effect on the UK government, UK policies or the way the rest of the world views Britain.