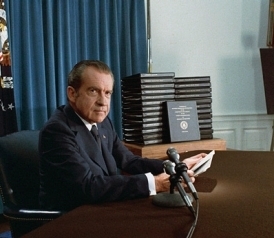 The new campaign finance order puts the corruption of the 1970s to shame.
by RICHARD L. HASEN, Slate.com
How does the brave new world of campaign financing created by the Supreme Court's Citizens United decision stack up against Watergate? The short answer is: Things are even worse now than they were then.
The 1974 scandal that brought down President Richard Nixon was all about illegal money secretly flowing to politicians. That's still a danger, but these days, the biggest weakness of our campaign finance system is not what's illegal, but what's legal. As Dan Eggen of the Washington Post put it, "there's little need for furtive fundraising or secret handoffs of cash." The rules increasing allow people and corporations with great wealth to skew public policy toward their interests—without risking a jail time, or a fine, or any penalty at all. It's an influence free-for-all. [Read More.]
Via
Lynda Park