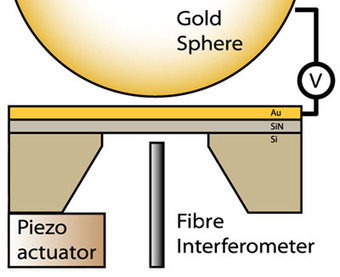 Physicists in the US may have ended a decade-old debate about how the Casimir force – which affects objects separated by tiny distances – should be calculated for two metal objects. They say that the so-called Drude model, which treats metal as a collection of billiard-ball-like positive ions and electrons, wins out over the "plasma model", which assumes the electrons move in a fixed lattice of positive ions. Understanding how to determine the force could play an important role in the design of micrometre- and nanometre-sized machines.

The Casimir force was first predicted in 1948 by Dutch physicist Hendrik Casimir, who considered what happens when two uncharged, perfectly conducting metal plates are placed opposite one another in a vacuum. According to quantum mechanics, the energy of an electromagnetic field in a vacuum is not zero but continuously fluctuates around a certain mean value. However, resonance means that only certain wavelengths will exist between two plates separated by a particular distance.

What Casimir worked out was that the radiation pressure of the field outside the plates will tend to be slightly greater than that between the plates, which will therefore be attracted to one another. As it is so tiny, the Casimir force proved extremely difficult to measure and it was not until 1997 that Steve Lamoreaux, then at the University of Washington in the US, provided the first firm experimental confirmation of Casimir's theory. Although Lamoreaux and others have since made better measurements, an important mystery remained regarding how the Casimir force should be calculated for realistic objects.
Via
Dr. Stefan Gruenwald