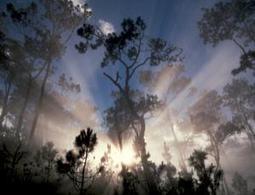 BILLIONS of years ago, a tiny cyanobacterium cracked open a water molecule - and let loose a poison that wrought death and destruction on an epic scale. The microbe had just perfected photosynthesis, a process that freed the oxygen trapped inside water and killed early Earth's anaerobic inhabitants.

Now, for the first time, geologists have found evidence of the crucial evolutionary stage just before cyanobacteria split water. The find offers a unique snapshot of the moment that made the modern world. With the advent of photosynthesis came an atmosphere dominated by oxygen and, ultimately, the diversity of life forms that we know today.

"This was the biggest change that ever occurred in the biosphere," says Kevin Redding at Arizona State University in Tempe. "The extinction caused by oxygen was probably the largest ever seen, but at the same time animal life wouldn't be possible without oxygen."