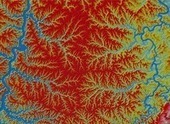 When rain hits a tilted surface, like the side of a mountain or a hill, it tends to flow toward existing depressions. The flow of water erodes the rock or soil, widening and deepening the depressions. Called incision, the process is competitive and even somewhat cannibalistic. As individual rills grow from incision, they capture smaller neighbors, forming tributaries. One would expect incision to spread indefinitely if unchecked, but a process called soil creep smoothes over the land, filling up the cracks with a slow, yet steady, drift of soil.
Scientists have known for more than 100 years that these processes shape rivers, but they hadn't been able to quantify their relative importance, or figure out how they work together to create river basins that are finely branched in some landscapes but not others, says Taylor Perron, a geomorphologist at the Massachusetts Institute of Technology in Cambridge and lead author of the new study. "We saw the form, but didn't understand the mechanism that leads to the development of this branching shape."...
The new mathematical principle, reported today in Nature, will allow scientists to better evaluate the underlying forces at work in a river system even if they can't take on-the-ground measurements, Perron says.