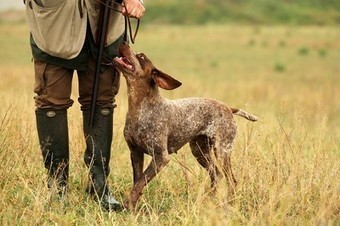 A new study finds that genes for diet, behavior, and disease in dogs and humans have evolved together.
Researchers from the University of Chicago and several international institutions found that several groups of genes in humans and dogs—including those related to diet and digestion, neurological processes, and disease—have been evolving in parallel for thousands of years.
This parallel evolution was likely driven by the shared environments of humans and dogs, wrote the authors in a study published May 14, 2013 in the journal Nature Communications.
"As domestication is often associated with large increases in population density and crowded living conditions, these 'unfavorable' environments might be the selective pressure that drove the rewiring of both species," the authors surmise.
For example, living in crowded conditions with humans may have conferred an advantage on less aggressive dogs, leading to more submissive canines and eventually to the pets whose puppy-dog eyes gaze at us with unconditional affection.
The study authors suggest that dogs were domesticated 32,000 years ago; that's much earlier than current estimates, which place domestication at around 15,000 to 16,000 years ago.
"Thirty-two thousand is a little bit old," said Bob Wayne, an evolutionary biologist at the University of California, Los Angeles. Although he does acknowledge that the timing of a split between wolves and dogs has varied widely—ranging between 6,000 and 120,000 years ago.
Via
Dr. Stefan Gruenwald