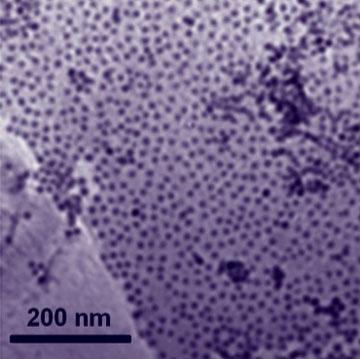 Platinum works well as a catalyst in hydrogen fuel cells, but it has at least two drawbacks: It is expensive, and it degrades over time. Brown chemists have engineered a cheaper and more durable catalyst using graphene, cobalt, and cobalt-oxide — the best nonplatinum catalyst yet.
The oxygen reduction reaction occurs on the cathode side of a hydrogen fuel cell. Oxygen functions as an electron sink, stripping electrons from hydrogen fuel at the anode and creating the electrical pull that keeps the current running through electrical devices powered by the cell. The reaction requires a catalyst, and platinum is currently the best one, but it's very expensive and has a very limited supply, and that's why you don't see a lot of fuel cell use aside from a few special purposes.
Thus far scientists have been unable to develop a viable alternative. A few researchers have developed new catalysts that reduce the amount of platinum required, but an effective catalyst that uses no platinum at all remains elusive. Lab tests showed that the new graphene-cobalt material was a bit slower than platinum in getting the oxygen reduction reaction started, but once the reaction was going, the new material actually reduced oxygen at a faster pace than platinum. The new catalyst also proved to be more stable, degrading much more slowly than platinum over time. After about 17 hours of testing, the graphene-cobalt catalyst was performing at around 70 percent of its initial capacity. The platinum catalyst the team tested performed at less than 60 percent after the same amount of time.
Cobalt is an abundant metal, readily available at a fraction of what platinum costs. Graphene is a one-atom-thick sheet of carbon atoms arranged in a honeycomb structure. Developed in the last few years, graphene is renowned for its strength, electrical properties, and catalytic potential.
Via
Dr. Stefan Gruenwald