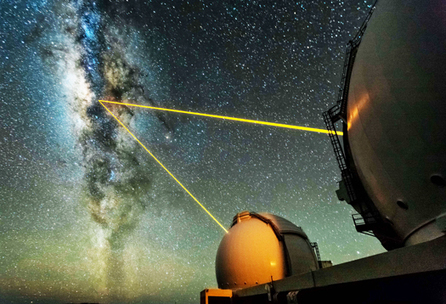 UCLA astronomers report the discovery of a remarkable star that orbits the enormous black hole at the center of our Milky Way galaxy in a blistering 11-and-a-half years — the shortest known orbit of any star near this black hole. The star, known as S0-102, may help astronomers discover whether Albert Einstein was right in his fundamental prediction of how black holes warp space and time.
Before this discovery, astronomers knew of only one star with a very short orbit near the black hole: S0-2, which Ghez used to call her "favorite star" and whose orbit is 16 years. (The "S" is for Sagittarius, the constellation containing the galactic center and the black hole). Black holes, which form out of the collapse of matter, have such high density that nothing can escape their gravitational pull, not even light. They cannot be seen directly, but their influence on nearby stars is visible and provides a signature, said Ghez, a 2008 MacArthur Fellow. Einstein's theory of general relativity predicts that mass distorts space and time and therefore not only slows down the flow of time but also stretches or shrinks distances.
According to general relativity, the elliptical orbits of objects like S0-2 and S0-102 should themselves "rotate," creating a rosette-pattern over time. This motion is known as precession and is most easily observed in bodies orbiting close to massive objects. But the mass of other stars near the galaxy's center creates a different type of precession that is difficult to separate from precession caused by general relativity. By studying the orbits of S0-02 and S0-102 together, the Galactic Center Group will be able to distinguish between the two precessions.
And according to Ghez, "It is conceivable that we will be able to observe deviations from Einstein's theory in regions where S0-102 and other short period stars reside." S0-102 was discovered using images taken with the twin 10-metre telescopes of the Keck Observatory on Mauna Kea in Hawai'i, the largest optical telescopes on the planet. These included observations with the Keck II telescope using adaptive optics and laser guide-star technology that corrects for distortions caused by the Earth's atmosphere. With a resolution greater than that of the Hubble Space Telescope, the observations allow Ghez, Do, and the group to resolve individual stars in the crowded region.
Via
Dr. Stefan Gruenwald