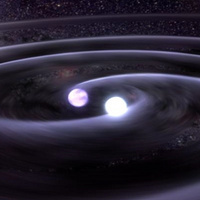 Scientists at the University of Oslo have discovered a completely new way for atoms to bond together — but these researchers won't be replicating the effect in the lab any time soon.

The previously unknown bonding mechanism can only happen in the vicinity of white dwarfs where their intense density and spin creates the intense magnetic fields required. Undaunted by the challenge of reproducing 'magnetized matter' in the lab, however, researchers believe the insight could advance the field of quantum computing.

Prior to this discovery, chemists had identified two classes of strong molecular bonds: ionic (where electrons from one atom hop over to another) and covalent (where electrons are shared between atoms). But thanks to the work of quantum chemist Trygve Helgaker, we now know that there's a third bonding mechanism — what he's calling "perpendicular paramagnetic bonding."

The discovery happened accidentally when Helgaker and his team were using a computer to predict what would happen to hydrogen molecules in an ultra-high magnetic field. Specifically, they wanted to see what would happen when they subjected computer-generated atoms to magnetic fields of about 105 Telsa, which is 10,000 times more powerful than anything that can be replicated on Earth.