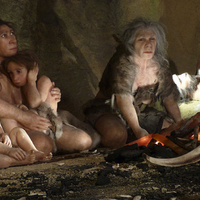 Our ideas about Neanderthals are steadily changing. We've learned that they had the capacity for language, looked after their sick, buried their dead, and decorated their bodies. But we still don't know much about their eating habits.

Anthropologists have suspected that they predominately ate meat — but a recent analysis reveals that their diet was far more sophisticated than that. After conducting chemical analysis on the teeth of Neanderthals, it's becoming clear that their dietary habits were extremely sophisticated and complex.

Researchers from the Catalan Institute of Research and Advanced Studies, the Universitat Autònoma de Barcelona, and the University of York, U.K., took dental samples from the remains of five Neanderthals. By using various spectrometry techniques, they were able to identify a number of organic components in the teeth. These compounds indicated signs of wood-fire smoke, a range of cooked starchy foods (including two plants known today for their medicinal qualities), and bitumen. The researchers suggest that the discovery of starch granules and carbohydrate markers offer evidence for the consumption of plants (like azulenes and coumarins) as well as nuts, grasses, and green vegetables.