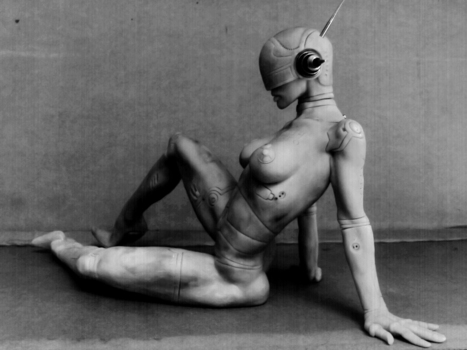 Will McIntosh's novel "Love Minus Eighty" started as a short story called "Bridesicle," which won the 2010 Hugo Award for Best Short Story.
In this future, questionable suitors revive legally dead women in cryogenic dating centers and offer to save them from death--if they're willing to get hitched. Suddenly, "'til death do us part" doesn't sound very effective. McIntosh has certainly pondered how today's already bizarre dating rituals can easily turn more alien in just a few centuries. Here, he shares seven futuristic dating rules from classic and new sci-fi novels.
So you're single, and for some reason you suddenly find yourself in the future. Usually a) you were cryogenically frozen, b) you stumbled into a time machine or c) you have become immortal. How are you going to find your soul mate? You don't know the first thing about dating in the future.
Don't worry--science fiction writers are on the case, providing you with dating etiquette guidelines regardless of whether you've been cast forward a few decades or a few millennia. Let's begin in the near future.
1. Super Sad True Love Story by Gary Shteyngart
Rule #1: You won't have to guess whether people think you're hot or not
A few decades from now, when you walk into a bar, everyone will indicate how attractive (or unattractive) they find you on a virtual scoreboard--whether you want them to or not. At least, that's how Gary Shteyngart envisions dating in "Super Sad True Love Story."You'll be judged not only by your looks (hint: try to look young), but also on whether you're keeping up with the breakneck pace of fashion (if you're a woman, you'll need to pick up some transparent undergarments), and by your credit score, which hovers over your head in flashing red numbers. Being adept at navigating the Internet of the future--and using it to draw attention to yourself--won't hurt, either.
Love Minus Eighty By Will McIntosh
Rule #2: Find someone you can love until you die, or vice versa
Jump ahead a half-century, to my novel "Love Minus Eighty." If you got there via cryogenics and you're an attractive woman, you may find yourself in a cryogenic dating farm, where meeting the right (i.e., rich) man is your only chance to be unfrozen and be given a second chance at life. If you're there under less dire and depressing circumstances, you should be aware that not many people find love "in the wild" anymore. Now, you meet people through dating services. If you need help, you can employ a professional dating coach who will stay with you every step of the way, from creating your online profile to feeding you witty or provocative lines via a private link while you're on your date.
Time Enough for Love By Robert A. Heinlein
Rule #3: Why buy when you can lease?
In the future according to Robert A. Heinlein's "Time Enough for Love," you'll be able to, well, put a time limit on your love. The notion of limited-term marriage contracts is a robust one in science fiction, but no one explored it more thoroughly than Heinlein. You can get married for a year. At that point, if things aren't working out, no problem; you've fulfilled the terms of the contract. If you and your partner are still in love after the year is up, you can go down to the Justice of the Peace and renew your contract for another year--or, if you're feeling really confident, you can take the plunge and make a five-year commitment.
If you're going to find love in the future, you're going to have to open your mind to a broader range of possible partners. In "Time Enough for Love," that pertains not to the qualities of your partner, but the number. Heinlein foresees a future where polyamory--that is, having more than one intimate relationship at a time with everyone's consent--is the rule rather than the exception. Here, relationships are formed in groups of six, with three men and three women entering a committed partnership. And you thought romantic relationships were complicated now.
But we're just getting warmed up...
The Dispossessed Ursula K. Le Guin
Rule #4: Pay close attention to your partner's cycles
In Ursula K. Le Guin's "The Dispossessed," there is a planet where people are neither men nor women… except once a month, when they can become either men or women. I did mention dating would get complicated in the future, didn't I?
Trouble on Triton By Samuel R. Delany
Rule #5: To find the right person, you may have to change
"But wait," you say, "this doesn't seem fair. Why can't I be one sex or the other?" You can, in Samuel R. Delaney's version of the future in "Trouble on Triton." On Triton, all things are possible: You can be a man or a woman, straight or gay. While this may broaden your dating pool substantially, it may not lead you to a blissful relationship, because being anyone you want can get really complicated.
The Silver Metal Lover By Tanith Lee
Rule #6: If you can't find someone to love, make someone to love
Maybe it would be simpler to just manufacture your perfect partner, thus dispensing with the whole messy problem of seeking out someone compatible. If you find yourself in Tanith Lee's "The Silver Metal Lover," consider taking a chance on an android. In her future, artificial beings have become advanced enough that it's possible to love them and to be loved by them.
Lilith's Brood By Octavia E. Butler
Rule #7: Consider dating outside your species
Your final option is to find a nice alien. There are just a few dateable aliens to choose from in the annals of science fiction. I've selected the Oankali from Octavia E. Butler's trilogy "Lilith's Brood."
So there you have it--you're ready to date in the future. The rules and rituals will be complicated. You'll have many difficult decisions to make. With all of these disparate visions of future dating, one familiar touchstone remains constant: It's all about love. It may be love for a machine, or for five people at once, and you may need see-through underwear and a dating coach. But if sci-fi novels are any good at predicting the future, romantic love will still be the ultimate gauge of successful dating.
Will McIntosh is a Hugo Award winner and Nebula finalist whose short stories have appeared in Asimov's (where he won the 2010 Reader's Award for short story), Strange Horizons, Interzone and Science Fiction and Fantasy: Best of the Year, among others. His first novel, "Soft Apocalypse," was released in 2011 from Night Shade Books, and his second novel, "Hitchers," was released in February 2012.